---
KEEP YOUR DOG COOL IN HOT WEATHER
Unlike humans, dogs can't sweat through their skin so they are a bit more sensitive to heat than we are. However not to worry, the Furry Sprinkler™ doubles as a pool, simply turn off the water and the water will stay in the Furry Sprinkler™ and serve as a cool and refreshing place where your pup play and chill out in the hot weather.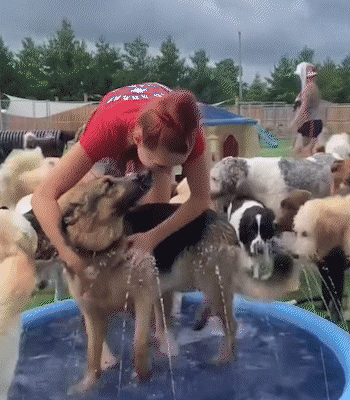 STAY ACTIVE AND HEALTHY
All dogs need daily exercise to stay happy, active and healthy. In general most dogs need at least 30 minutes to 2 hours of physical activity per day. The Furry Sprinkler™ provides a place where they can play to their hearts content without overheating in hot weather.
FUN FOR DOGS AND KIDS
It so much fun for dogs, kids..ohh and adults haha. It combines the best parts of a kiddie pool, water slip n slide, and sprinkler to make the most entertaining spray pad on the market and a great alternative to a traditional swimming pool.

EASY TO INSTALL
Just plug the water mat sprinkler to a garden hose or PVC tubing, and simply adjust water pressure to lower or heighten the spray height. Easy fun water play in summer.
30-DAY MONEY BACK GUARANTEE
We have an iron-clad risk-free 30-day guarantee that begins only when you receive the product! Try it risk-free for 30 days and If you aren't 100% satisfied, return it for your money back, no questions asked.
What's  in the box?
1x Furry Sprinkler™

Size Specifications:
Small: 39 inch l 100x100cm (Up to 25 pounds)
Medium: 59 inch l 150x150cm (Up to 60 pounds)
Large: 67 inch l 170x170cm (60 pounds+ or multiple dogs)